Article

My name is Fred Fields. I'm an artist, illustrator and concept artist. For those of you who are unfamiliar with my work or if you're asking yourself, "Who's this clown?" You can view my work on my website at www.fredfieldsart.com.

I was quite excited when asked to write for PACT. I believe greatly in the cause. I believe PACT is long overdue and necessary. Artists are mostly loners, so trying to organize them is like herding kittens. I asked Jim Pavelec what subject matter I should write about, and he suggested I just write about my career focusing on the different things I've done, the places I've worked and lived along with the pros and cons of each. As a reader, I think I would enjoy such an article. Here is where I, as the writer, have a problem with this idea. I, in absolutely no way, have ever had a career plan. Yes, I've worn a plethora of hats and consider myself mildly versatile. Personally, I feel I've drifted from one job to another in a Forrest Gump kind of aimlessness. Actually as I sit here writing, I feel a bit like Forrest sitting on that bench at the bus stop talking to whoever happens to sit down...

Art School

My hope after graduating high school was to find an art school where my less than stellar grades would not impede my admittance. I found Central Academy of Commercial Art in Cincinnati (no longer in existence) where admittance was based solely on my artwork. After a year and a half of a two year course, I had the brilliant idea of quitting school. I have this habit of making life more difficult than it needs to be. I figured that a diploma was just a piece of paper. What did it matter? The funny thing was, every time I interviewed with an art director I was asked if I had graduated. Obviously my portfolio looked a bit sub-graduate and amateurish.

A year after quitting school I found myself unloading trucks and making $3.35/hr. I decided I might want to go back to school and finish. I went back and was able to start right where I left off. I graduated with honors in 1986.

Advertising in the Windy City

The instructors at Central Academy spoke mainly of two advertising markets, Cincinnati and Chicago. They had connections of former grads in both places but spoke of those grads in Chicago with a rock star reverence. Deep down I wanted to be a rock star. I mean who doesn't? So after graduating I moved to Chicago with my soon-to-be first wife and some friends to try and become that rock star. After about a month of interviewing and reworking my portfolio on a daily basis, I landed a job with Leo Burnett Company. It was, at the time, a company of 1500 employees and located in the Prudential Plaza right in the heart of downtown Chicago. I had a seventh floor office (of sorts - 8 ft. cubicle with a door that closed). I worked on print ad and storyboard comps for major advertising campaigns. I was paid fairly well for someone new in the business and the company had great benefits. Hell, Leo Burnett was named one of the top 10 companies to work for in the US that year. The problem for me was that I never thought about what to do if I landed that rock star job. I had uprooted myself from a small town in KY to Chicago, IL. I couldn't afford to live in a great neighborhood. I was now riding the subway to work when I'd been used to driving everywhere. I hated the subway. I am an introverted person. So for me, Chicago was an imposing alien city that was impersonal and loud. I was completely out of balance and felt I had lost touch with who I was. Despite the fact that I had a pretty cool job with a great company, I was unhappy living in Chicago and lived there for only a year.

Freelancing

After leaving my job at Leo Burnett Advertising in Chicago, I moved back to Kentucky and freelanced rather unsuccessfully out of my apartment. I was picking up occasional storyboards from Cincinnati advertising agencies. I was also starting to produce some personal fantasy art paintings. I ran across and began freelancing for a company in Cincinnati that produced lead gaming miniatures. The company was called Ral Partha. Working for them gave me the opportunity to produce box art that was in the fantasy genre.

At the same time I began to send out samples of my work to publishers, and gathered a large pile of rejection letters. But, in time, I began doing work for a couple of magazines owned by TSR Inc. They were covers, too. Looking back at the work I can tell you that I wasn't ready to start working professionally in the industry. I still wasn't making much money (I was broke, actually) but I was doing covers. It seemed that things were moving forward but, man, it was tough being penniless and in a constant state of sleep deprivation.

I was talking to Lori Svikel, the Art Director at Dragon Magazine, and mentioned that I was considering getting out of the business altogether. She told me that there might be a job opening in the TSR art dept. I'm not a gamer or reader of fantasy novels. I have always liked the genre from an artistic standpoint. I had procured all of the Frank Frazetta, Boris Vallejo and Michael Whelan art books. I knew very little about the art coming out of TSR. What I did know was that it was a place where I could go and work full time painting fantasy art covers. I applied and relentlessly called about the position. During one of those calls, I caught somebody during a moment of weakness and was offered the job. That was the beginning of a very formative chapter in this mish-mashy thing I call my career.

TSR

In 1989 I moved to Milwaukee, WI to work in the art department at TSR, Inc. (Tactical Studies Rules). TSR was located in Lake Geneva, a Wisconsin tourist town about an hour from Milwaukee and about two hours from Chicago. At the time there were very few book publishers that were not in NYC. Being from a rural upbringing in KY, I found these surroundings comfortable. For those of you who aren't familiar with the company, they were the makers of Dungeons & Dragons and many other tabletop role playing game lines from 1973 - 1997. The company also had two gaming magazines (Dungeon and Dragon) that were in the same building. This was my first staff position as an illustrator. Suddenly I didn't have to worry about drumming up work, doing paperwork or calling clients to inquire about payment. All I had to do was go to work and paint. I was originally hired as a black and white illustrator. I did exactly two black and white interiors before graduating to full color covers. Sitting in a room full of illustrators eight hours a day helped me grow as a painter. I established a process for working and at the same time the situation afforded me the opportunity to experiment with different painting techniques.

At TSR the process for coming up with cover ideas was a bit unorthodox. Since TSR put out a yearly catalog of upcoming products we had to come up with all of the ideas for all of the covers in a quick two week span of time. At that point none of the game modules or paperback novels, for which we were designing covers, had been written. I couldn't read a novel before designing a cover. I couldn't talk to an author unless they were on staff. We had to rely on the book editor's knowledge of the novel while it was still in the works. We also had to rely on the editor's ability to choose a scene in the book that would make the best cover painting. When it came to the game modules, it was the same story. The designers had a general storyline to start from and that was what we had to work with, as well. So we did all of our thumbnails and roughs for the year and then we painted (or farmed out) comps that would be made into cover mock-ups for the catalog. It was a less than efficient process but no one could really figure out a way to fix it. During my years in the art department we sometimes had an art director, but a lot of the time we did not. In hindsight we had much more artistic freedom than we knew.

The biggest drawback for me, as an artist, was that working for TSR was a "work for hire" situation and TSR owned the copyrights to the artwork. It didn't dawn on me until after leaving TSR just how important that was. That was six years of work that I did not own. In the mid-90s the company was slowly sinking into a quagmire of debt. I decided to begin doing freelance before the place completely submerged. I thought I'd get a head start. That way when they let everybody go I'd already be establishing myself. So I started freelancing for about six months and then handed in my resignation and split. I left a job that I once loved and a lot of really good friends behind. It was the end of an era. As flawed up as the company was, it was a very important part of my career. That company put my paintings on covers and put those covers on bookshelves, they put my photo in art books and on the back of calendars. TSR is where I made my bones.

Check back soon to see what happens to our hero in the years after TSR!
Author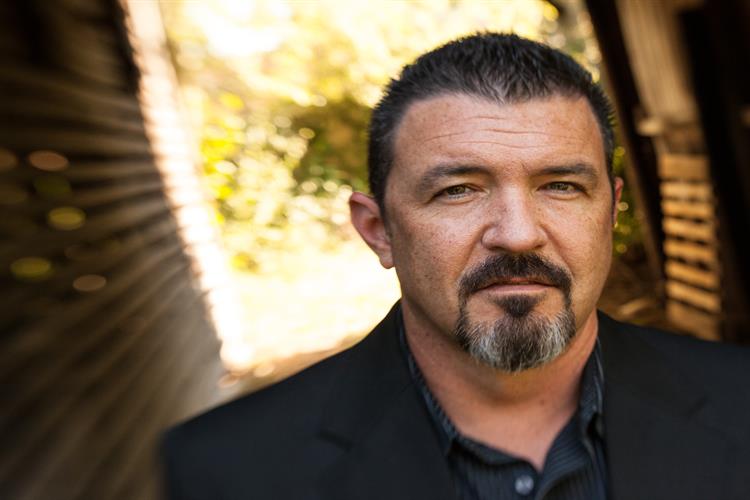 Fred Fields
Fred Fields began oil painting when he was nine years old. After high school he attended Central Academy of Commercial Art in Cincinnati. After which, he landed a job with Leo Burnett Advertising in Chicago as a storyboard comp artist and doing side jobs for the likes of J. Walter Thompson and BBD&O; Chicago. A handful of Sword and Sorcery magazine covers came his way and eventually turned into a full time job with the the legendary art department at TSR Inc.

Fred worked for seven years as a cover illustrator at TSR Inc. and later with Wizards of the Coast where he work with such notably talented illustrators as Jeff Easley, Clyde Caldwell, Alan Pollack, Dana Knutson, Tony Sczcudlo, Robh Ruppel and Brom. He also spent several years in Arizona painting the sons and daughters of the great American West. He has also worked as a concept artist for Dream Forge Entertainment and Warner Brothers Interactive Entertainment.

Currently Fred is a self-employed illustrator, concept artist, storyboard artist and fine art painter. He now lives in his native state of Kentucky with his wife and sons. Life is good.