Article

1. Are there any projects that you are currently working on together? Are they creator owned or for a specific company?

We have a lot of creator-owned personal projects that we have planned together (every-time we travel somewhere we end up discovering some new project we'd like to work on together). One that we have already started is called, "The Other Side of the Mirror" which we hope to release later this year, both as a book and as a gallery show.

2. Do you actively take into account your status as a couple in your marketing? If so, how do you strike a balance between presenting yourselves as a team, and maintaining your individual brands?

Neither of us are really experts at marketing and prefer as much as possible to just stick to painting. Deep down, that is always what we wish we were doing. So every minute spent on marketing and promotion is annoying to us (we know we have to do it though…) But to answer the question: We do take it into account but it just really means that we share a website and a booth at shows.
We have similar influences but distinct styles and separate target markets, but ones that slightly overlap. It works out well to show and exhibit together. We still maintain our individual brand identities (for lack of a better term) as we both had very established markets before we got married and there is no reason to alter anything now. We hope that the work that bears both our names will be our joint personal projects in the future.

3. Can you discuss some of the pros and cons of setting up together at shows and conventions?

The pros would be that setup is much easier when you can travel and share a booth together. The week before a big show is often a nightmare of assembling prints, working on displays and filling out paper-work, and it is great that we can do that together now.
It is also cheaper to rent one car and one hotel room than two of everything!

The cons would be that sometimes setup can feel like twice the workload.

4. Do you share a studio at your home or work in separate spaces?

We share a studio for traditional art and an office for computer work and shipping.

5. If you work in the same space, do you have anything on while you work? (music, movies, books on tape, etc.) If yes, what do prefer to listen to or have on?

We listen to music every now and then (especially in the mornings), but our favorite thing is audiobooks. We are into mystery-thrillers at the moment. Movies are pretty rare and television is even more rare. Justin hates commercials, as they cause him to scream uncontrollably, so if we do watch anything it is typically on Netflix or Amazon and is a non-fiction mystery or documentary that doesn't require you to look at the screen much.
Anything visual (like Animal Planets Most Adorable Kittens) is right out. (I mean, who can concentrate with that on?)

6. Have you been able to break into new markets or find new opportunities as a couple that you don't think you would have been able to approach individually?

We have found that more galleries have asked us to do joint shows. We have also found that we are getting into each other's markets more and more. (Justin now doing more and more traditional work for private collectors and Annie is doing more and more publishing work).
We haven't really tried to break into to any other new markets yet thought, so those are the main areas at the moment.

7. Have the financial stresses that come with being an artist decreased since your marriage?

Financial stress seems to be a constant in a freelancer's life. You don't always know where your next paycheck will come from or whether work will dry up next month and there isn't much of a retirement package. It can be scary.
However, as a couple, I think that we make better financial decisions together. We also both had the good fortune to have stable clients and income before we got married so now we are just combining that. So it is much less stressful now than it was.
Knowing how to budget for yourself as a freelancer is incredibly important to minimizing stress. The best advice we can give to others just getting out there is: Know what your average monthly living expense is, then work hard to put at least 3 to 6 months of living expenses into savings. Keep this in savings at all times and your life will be a lot less stressful.
Sooner or later you are going to hit a rough patch and not have work for a month or so, maybe even longer in a bad economy. There is nothing like having a little cash to fall back on to get you through it until work starts coming in again.


Author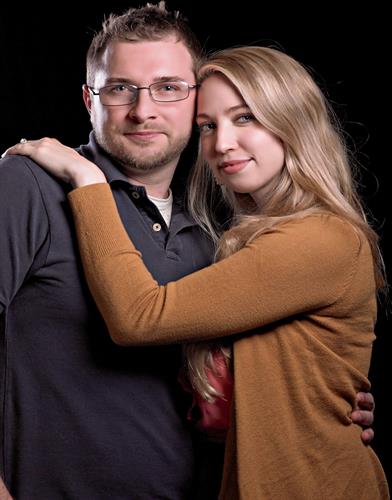 Annie Stegg and Justin Gerard
Annie Stegg has been painting whimsical illustrations from early childhood, though her professional career did not start until 2004 when she graduated with a bachelor's degree in art. Her works encompass a wide variety of mediums, including both two and three dimensional forms. Specializing in character design and development, her goal is to create unique images that tell a story.

Her illustrations have been featured in various game and publishing clients including Ballistic Publishing, Apple, Android, Hi-Rez Studios, Tiki Games, Addicting Games, and SPIL Games. In addition to these commissioned projects, she spends most of her time creating her own personal body of work which is inspired from folklore, mythology, and nature. Her signature works include fanciful depictions of women and animals. Annie strives to create images that will evoke emotion and imagination in the viewer. She believes that in order to gain a better understanding of oneself, it is important to be open to others' perceptions. Art is just another way to express an emotion or ideal; a visual method of communication that depicts things that words cannot express and connects people through insight.

Most of Annie's work is done in acrylics, but she also works in oils, color pencils, and watercolor. She currently resides in Northern Georgia.

From the moment that Justin Gerard first learned that the crayons were meant for coloring and not for eating, he has been drawing.

He began painting later in life after he found a Step-by-Step Graphics guide on Peter de Sève. Armed with this and inspiration from the works of Arthur Rackham and the Golden Age illustrators he began creating narrative-driven images to inspire himself and others.

Justin has a special love for the Golden Age illustrators. He has made a long and detailed study of their brains in an effort to distill their collective genius into a drink, which he might sell for millions.

While Justin has always derived a great deal of inspiration from nature and human history, his favorite source of inspiration is story. The works of J.R.R. Tolkien and C.S. Lewis have remained constant sources of inspiration for him throughout his career.

Justin gave up a life of gambling, piracy and horse-thieving in 2013 to marry Annie Stegg.

You can see more of their work at Gallery Gerard